It is essential for companies to build a good relationship with their consumers so that it will last over time. When we define the brand personality and what it represents, it is the moment when we can create brand affinity with our customers. In marketing strategies, we work on the emotional part over the rational part to increase sales. If we want to achieve our objectives, it will be necessary to understand the audience to be able to offer them a message with which they connect.
What is brand affinity?
The definition of brand affinity consists of the relationship established between the company and the consumer. In other words, it is the set of values that they have in common and that help customers to fully trust the brand.
While we know that the path a consumer takes before making a purchase involves reasoning, emotionality and behavior, this affinity ensures that the customer is carried away by his most emotional side and finally buys our product or service.
What is the difference between brand affinity and brand loyalty?
It is very likely that at some point we have seen the terms brand loyalty and brand affinity used in the same way. We cannot deny that both are similar, but it is true that they do have some differences.
Without going any further, a person can be loyal to a brand because it sells the best product or service, but not feel a brand affinity. As we can see, brand loyalty does not require a high connection at a personal level that creates the company-consumer link, it may simply be perceiving that the company provides some added value. And this value is above pricing or competitive strategies. Customers who are loyal to a brand will remain so because they believe it provides the best experience and quality than the rest of the industry.
This is the main difference with brand affinity. With loyalty, a more rational decision is made. Many companies implement customer loyalty strategies to encourage this loyal buying behavior. While it is true that trying to encourage loyalty with special offers does not increase actual customer loyalty.
On the other hand, affinity with the brand is the highest level of quality and duration, since the relationship between both parties is real.
Brand personality: what it is
Brand personality is a set of human aspects that customers attribute to a company. It is what makes a brand more or less identifiable in the eyes of consumers.
The vast majority of these traits is the one that is able to attract a specific market segment and increase the value and brand affinity. So it brings qualitative values and tangible benefits.
Several studies agree that the more the brand personality resembles the customer's personality, the stronger the connection will be. We can distinguish between these types of brand personality: sincerity, sophistication, robustness, excitement and competence. Obviously, these groups include other emotions such as carefree or youthful attitudes.
How to increase brand affinity
You are probably wondering how to increase brand affinity. Simply understand your consumers and the traits they associate with your company. Once you're clear on that, all that's left is to make sure that each part of the strategy intensifies the message of your brand personality.
Step 1: Know your customers well
The first and one of the most important steps in building brand personality and affinity is to know your audience in detail. To do this, we recommend you to collect data to create a more accurate picture. You can get this data from reviews, surveys, sales and CRM data, and even your employees' anecdotes.
Social data can be helpful because it allows you to do consumer research before they become your customers. Find out what their tastes and preferences are, what language they use, what they do for a living, and even which media outlets they find reliable sources of information. You know, the more you know about your audience, the more effective your brand strategy will be.
Step 2: Know your brand's associations.
One tool that can help you gather more information about how your audience is engaging with your brand is social intelligence. Atribus' social media active listening platform helps you identify and analyze everything that is being said about your company.
In addition, you can segment your audience, such as by gender or location. Not only that, but you can also track your brand's reputation, helping you manage potential future crises.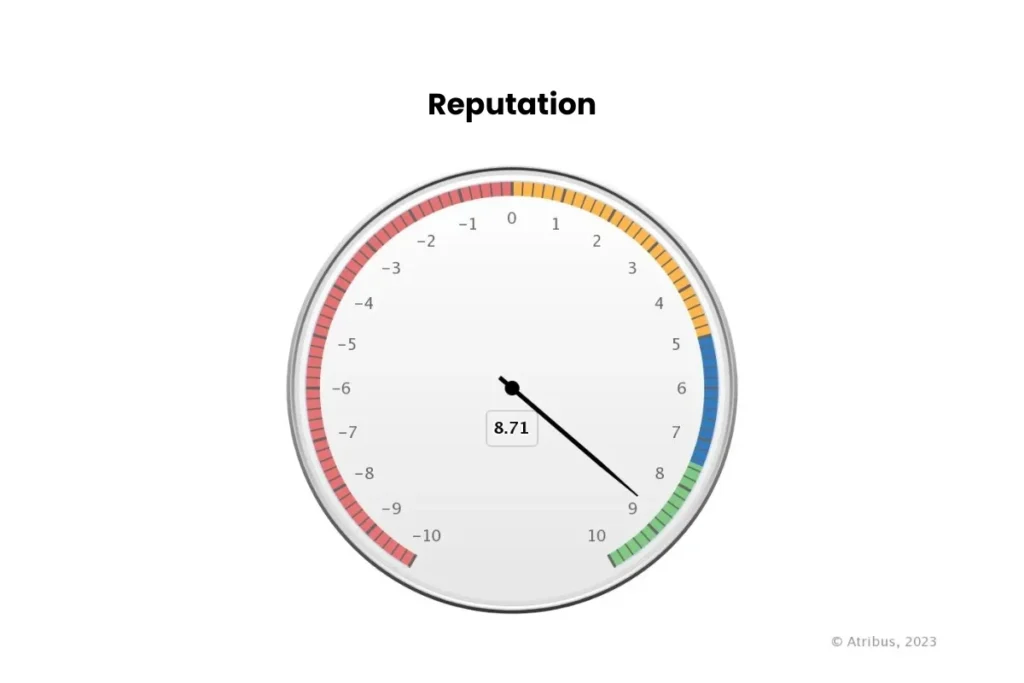 Step 3: Create a message aligned with your brand's personality
After you have done the research to get to know your audience in detail, you can understand how closely the perceived image of your brand matches the reality. During the strategy you can work out all the details so that everything fits with the message you want to convey.
It must be clear that to generate affinity with the brand, it is necessary to have a brand personality that is aligned with the company. That is to say, it must be reflected in every communication platform with the client.
In addition, the higher the brand affinity, the more likely customers are to share content on their social networks. In fact, according to a New York Times study , 68% of users share content on their profiles to give others a better idea of who they are and what they like.
One marketing practice that continues to work over the years is word of mouth. And the more you emphasize your brand's personality, the more aligned it will be with your audience and the more your content will be shared on social networks. So make sure your brand stands for something that is well defined and communicates that message well.